Home improvement trends change all the time. Trends can give you some great ideas to update your home, but you also need to be careful. Choose the wrong trend, such as one that comes and goes quickly, will leave your home looking out of date. If you are looking to renovate your home but need some inspiration, checking out the next big thing in home improvements will help you to be ahead of the curve.
The Next Big Thing
So, what's currently trending in home renovations? One huge renovation trend to watch out for in 2019 is open plan living. It might not be a new concept, but it's back in a big way this year. Think lots of clean open space and a light, airy aesthetic.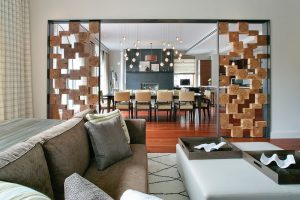 Statement partitions
Now, you may be thinking that open plan living is nothing new – it's been popular for a while. That is very true, but new trends are often just spins on older trends. The current spin on open plan living is to include statement partitions in your open concept space. Statement partitions help to keep the airy feel of an open space, but still offer some element of privacy or division. With a statement partition you can create different zones and spaces in your home, while adding something beautiful to look at. You can create partitions using glass doors, kitchen islands, door frames without doors, and even fireplaces. There are lots of ways to divide a space without putting solid walls and doors in the way.
Materials are key
One example of a statement partition uses steel and glass. Glass is a very versatile material and can be used in a variety of styles, from sleek and modern to industrial or vintage. Glass creates the illusion of space as it allows light to come through it. Other materials for your partition could be metal or wood, depending on your home's aesthetic. Wood is great if you have a natural, rustic vibe.
What do you think about this new trend? We'd love to know! If you are considering updating your home with a renovation project, do not hesitate to reach out to the team at Masters Construction. With over 5000 projects under our belt, we have the experience and knowledge to complete your project to your complete satisfaction. Call today!